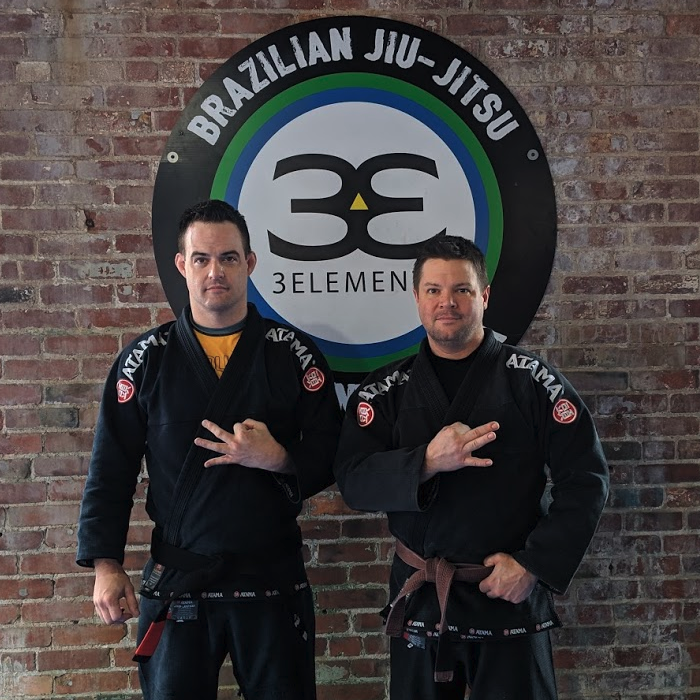 Instructors Brad and Tom Gardner
In 2005, Brazilian Jiu-Jitsu instructor Marc Yates founded 3Elements for one simple reason: to introduce others to the culture of Brazilian Jiu-Jitsu so that they, too, may grow and benefit from its positive impact on the mind, body, and spirit. Whether your interest in Brazilian Jiu-Jitsu stems from a desire to have greater self-determination in physical conflict, develop core strength and conditioning, or become a more complete Brazilian Jiu-Jitsu or mixed martial arts competitor, 3Elements can guide you in achieving your goals.
In June of 2013 Marc received his BJJ black belt from Robert Drysdale, founder of the Drysdale Brazilian Jiu-Jitsu School in Las Vegas, NV. In December of 2014 Marc turned over ownership and day to day operations of the school to longtime students and instructors Tom and Brad Gardner. Brad is the head BJJ instructor, with Tom's assistance, while Jeremy Sakuta serves as head striking instructor. Tom also instructs the MMA classes. In March of 2016, 3Elements became affiliated with the BJJ Revolution Team under highly decorated Brazilian Jiu-Jitsu practitioners Rodrigo Medeiros and Julio "Foca" Fernandez. Tom is a brown belt under the BJJ Revolution system, and Brad was awarded his black belt under the system in November of 2018.
The 3Elements philosophy will help you develop your skills in a proven system of proficiency focusing on the three foundational elements of Brazilian Jiu-Jitsu: escape, control, and submission.
commit to martial arts, health and fitness
challenge yourself. take it to the next level.